Sugar Banana
Sugar Banana (Pusang Awak)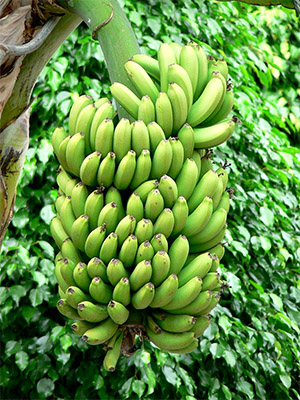 Just so much tastier! Known as the Sugar Banana for its sweet taste the exquisite flavor makes the sugar banana a great addition to fruit salads, cakes and muffins. The sugar bananas are fantastic for cooking as it does not brown when cut and remains firm when cooked. Ho Farms Sugar Bananas must be fully ripened for best flavor. Fruits are lime green when picked and gradually ripen to a lemon yellow color. All green must turn to yellow even on the stem.

How to Pick a Sugar Banana

Sugar Bananas are relatively easy to select at your local market.
If the Sugar Bananas are fairly ripe make sure they have no abnormal fruit bruise
Will formed fruits for easy peeling
Brown marks/patches indicate fruit maturity for firm pulp/light creamy and delicately sweet flavor.

How to Store Sugar Bananas

Unripe green Sugar Bananas should be kept in room temperature for normal ripping.
For accelerated ripening keep unripe Sugar Bananas in a sealed plastic bag. Bananas naturally produce ethylene gas that help the ripening process.
If the Sugar Bananas fruits are browning which indicate maturity the fruits can be then refrigerated for extended shelf life.
Fun Facts
Bananas are the best selling fruit in the world outranking Apples and Oranges. American consumers an average of 25 pounds per person.
Sugar Banana variety is widely grown in East Africa for the growing production of beer and wines.
Perfect afternoon pickup ….. This snack is useful in bring low blood glucose levels back to help avoid afternoon slumps experienced at work.
Vitamin Power! One Banana provides more then 25% of your daily vitamin needs.

Good For You (Nutritional) Facts:

Serving Size = 1 fruit
Calories – 65
Proteins (g) – .8
Carbohydrates (g) – 16.67
Fiber (g)– 1.9
Fat (g) – 0.24
Vitamin C (mg) – 12
Folate (mcg) - 20
Potassium (mg) – 342