Mini Japan Cucumber
Mini Japan Cucumber (Cucumis sativus)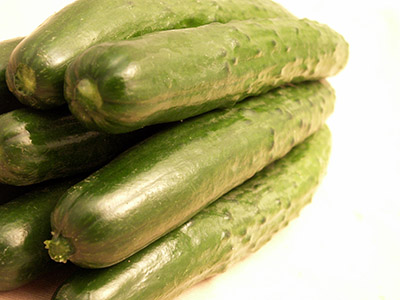 Our Mini Japan Cucumber harvested at a younger stage allow for a perfectly crisp texture. With less water content and no seeds chefs prefer this product in sushi and Salads. The Mini Japan Cucumbers are harvested, washed, sorted and packaged for one day turn around shipment ensuring you enjoy the freshness of our product as we do.

What to Look for When Purchasing

First, look for the Ho Farms label! We make sure our Mini Japan cucumbers are:
Firm with no soft spots and Well-formed (this also makes the skin completely bright green rather than yellow)
Bottom end should not be shriveled
Free of bruises and dead dry spots

Storage Tips

Store fresh or cut Mini cucumbers in the refrigerator the same way you would store our standard cucumbers wrapped in plastic. The wrap locks in the moisture to ensure the Mini cucumber is crisp when you eat it. Mini Cucumbers should last for about one week when wrapped in your fridge.

Fun Facts

It only takes an additional two days on the vine from Mini Japan Cucumber to our standard Japan Cucumber size.
All Japan Cucumber in Japan are consumed in the Mini size.

Good For You (Nutritional) Facts:

Serving Size = 1 cup
Calories – 7
Proteins (g) – <1
Carbohydrates (g) – 1.5
Fiber (g) – 0.4
Fat (g) – 0