Our Services
Customer Service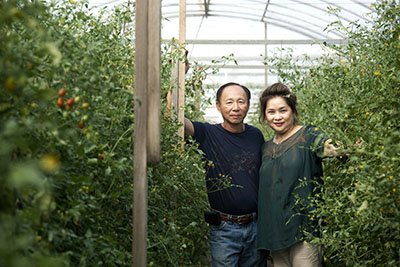 We primarily serve our customers by constantly striving to grow and offer the best vegetables in Hawaii! Our commitment to quality, the steps we take to minimize our use of chemicals, and our Good Agriculture Practice have earned us recognition by the Hawaii Seal of Quality program.
For our commercial buyers, we are a full-service produce wholesaler that offers consistency of quality and supply of our high-quality, fresh, local, GAP certified produce. We offer a well-recognized and regarded brand and deal directly with consumers so we know what they want. We also utilize technology to be very responsive and ensure our records are accurate, billings timely, and buyers are well-informed. Most importantly, we take a partnership approach to ensure our relationship is long-term and benefits both of us.
For our Farmers' Market customers, the people you are buying the vegetables from are the same folks that grow them—us, so we can not only provide you with the best vegetables in Hawaii, but we can also educate you on topics such as the differences with various growing techniques and why locally-grown vegetables are tastier and healthier.
Packaging
We're proud of the quality of our vegetables and so we've worked hard to package our product to make sure that your customers can see the quality and that it will be as fresh as possible when they take it home and enjoy it. Our products are properly packaged for transport, look better, last longer and stay crisp and moist because we use suitable food-grade packaging that is actually designed to transfer oxygen or lock moisture in at a rate that best maintains our quality! Ho Farms is known for high quality, local, safe produce and so our (beautiful) labels make it easy for customers to recognize a favored brand.
Delivery
We want our customers to get the freshest produce possible, so we harvest throughout the week and deliver six times a week to minimize the time between harvest and delivery. In addition, we work to minimize our carbon footprint by intelligently arranging deliveries so we drive as few miles as possible.
Contact Us
Your customers want local, safe, high-quality produce. They want Ho Farms! If you want to see first-hand why our products and packaging make our products customer (and retailer!) favorites, please e-mail us. We're easy to do business with and look forward to working together to improve your business.