Careers
Join the Ho Farms family and help Hawaii reduce its dependence on imported food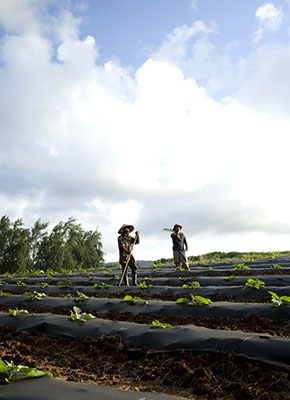 Production Crew
The stars of our healthy products are the few that believe that good old fashion hard work pays off! If you love getting your hands dirty and being connected to the land, join our crew and feel good about producing excellent produce for the people of Hawaii. We empower all crew members to make active decisions and provide input in how to achieve common goals. There is always more than one safe way to get something done!
Crew Manager
For those "jack of all trades" looking for an outdoor challenge in an encouraging, proactive environment, this is the course for you. Help foster development and implement solutions. Thrive in the challenge and your productivity will be rewarded!
Crew Support
Our small back office crew provides critical support for our production and crew managers. This niche crew ensures that we sustainably grow healthy produce and keeps the paper work flowing in a timely manner. If you are organized and detail oriented, this one is for you!
School Partnership
We are open to work in partnership with professors and provide their finest graduate students with essential real world work experience. Leave the textbooks and theory behind and submerge yourself in actual business problems fostering the development of solutions that leverage sustainable ideas and today's technology.
Interested in our positions? Download and complete a Job Application (PFD Download) and Email to Info@hofarms.com "Subject Line Job Application (your full name)" zip attachment will not be open.