What is the "Hawai'i Seal of Quality"?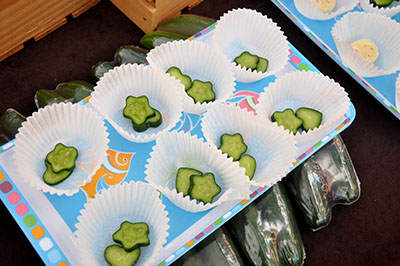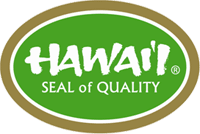 It is an official mark of a premium Hawai'i-grown product, and Ho Farms produce is proud to have earned this designation from the Hawai'i Department of Agriculture (HDOA).  The green "Hawai'i Seal of Quality" sticker that you see on our produce is provided by the HDOA to select producers who meet their standards of premium quality and Hawaii-produced. 
The HDOA established the program in 2006 to protect the integrity and value of marketing Hawai'i branded farm and value-added products.  When you purchase a product with a Hawai'i Seal of Quality sticker, you are purchasing premium products guaranteed to be Hawai'i-grown or Hawai'i-made, a guarantee that is enforced by the State of Hawai'i. 
For more information:  http://hawaii.gov/hdoa/add/soq
What is "Food Safety Certified"?

Ho Farms maintains an industry-recognized food safety certification.  It means that our farm has been certified to have specific measures in place to ensure safe agricultural practices and protect our customers from food-borne illnesses.  We do this by ensuring a clean work environment, maintaining good records, and practicing safe handling and packaging practices.   In addition to our commitment to food safety as defined by this certification, we purposefully minimize our use of pesticides and chemicals.
Unfortunately, many growers are not Food Safety Certified (and Certified Organic does not imply Food Safety by the way) and we are encouraging other farmers to adopt the food safety practices and get certified for the sake of our neighbors' health and the reputation of Hawai'i agriculture.
For more information:  http://www.hifarmsafe.org/
http://www.ctahr.hawaii.edu/adap/FoodSafety/index.htm
http://hawaii.gov/hdoa/qad/comm/comm


Do you follow sustainable growing practices?

We sincerely respect Hawaii's delicate eco-system and are making great strides in minimizing our environmental impact. Working with agencies such as Oahu R C & D, NRCS and CTAHR we have been able to implement Integrated Pest Management (IPM), Composting green waste, Crop rotation and even erosion prevention.  Our farm planning takes to consideration that our land and resources would be available for future farming generation.
For more information:  http://www.ctahr.hawaii.edu/sustainag/
http://www.oahurcd.org/
How do I know if the produce I purchase is local? 

Thanks for caring!  Supporting local agriculture reduces our state's dependence on imports (along with the carbon impact of transporting these imports), helps preserve our island's green spaces, and keeps more money in our local economy.  Of course, buying local agricultural products also means you are getting fresher, tastier, and healthier* food!
* Produce picked earlier to accommodate long shipping times have less nutrients and produce often lose nutrients over time.
The easiest way to tell if you are purchasing locally-grown produce is to look for the Hawai'i Seal of Quality sticker.  Beside the guarantee that products with this sticker are grown or made in Hawai'i, products with the Hawai'i Seal of Quality sticker indicate that this product is considered "premium" by the Hawai'i Department of Agriculture.   
Another way is to ask your produce market manager.  They should know whether the produce is local or imported into the state.  If you want more locally-grown food, inform your local grocer.
For more information: http://hawaii.gov/hdoa/add/food-self-sufficiency
http://hawaii.gov/hdoa/Info/buy-fresh-buy-local-features-big-island-produce-on-kitv
Is Ho Farms organic?

No, Ho Farms is not a Certified Organic farm.  However, we do believe in providing customers with high quality and safe produce (thus our Hawai'i Seal of Quality and Food Safety certifications).  We have taken steps to reduce our use of synthetic sprays by using insect exclusion netting, greenhouses, and crop rotation techniques.    
How do you get the tomato colors to be different?

Each distinct color and shape tomato comes from its own unique plant.   So for every color and shape we have a tomato variety that is select no for it production quality but for the uniqueness in color shape and most importantly taste.  You can get flavor ideas on the products page.
Do the tomatoes taste different?

Yes!  Each of our tomato varieties has a distinctive taste, yet all Ho Farm tomatoes are known island-wide for their sweet flavor and firm texture and are great in a salad or alone as a healthy snack.  If you think tomatoes have to be bland, try one of ours (better yet, compare our different varieties) and let us know about your first experience tasting a real tomato!
Where can we find Ho Farm produce? 
We sell our products at local grocers that care about quality local produce and at farmers' markets on O'ahu.  If we are not already there, ask your produce manager to add our products (you'd be surprised how much influence you can have on what they carry).  You can find a current list of our product location