Long Beans with Red Curry Paste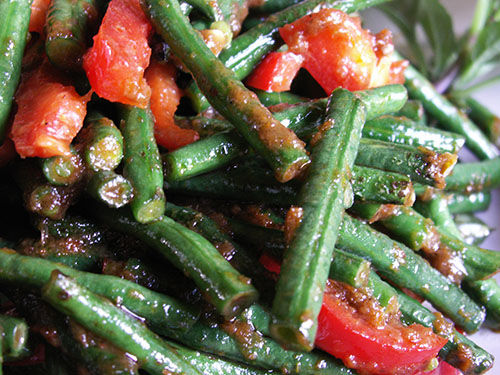 Long Beans with Red Curry Paste
By: Mom
Ingredients for 2 servings
- 4 cups Ho Farms Long Beans cut into 1 inch sections
- 1/3 cup of thinly sliced red bell peppers
- 2 tablespoons of vegetable oil
- 1 tablespoon of red curry paste (Mae Ploy Brand) mixed well with 1/4 cup of water
- 1 ¼ teaspoon of sugar
- 1 tablespoon of fish sauce
- 10 Thai basil leaves
Directions

Heat vegetable oil in pan on high heat for 1 min.
Once hot, toss in Long Beans and stir gradually for about 1 min.
Next, stir in the mixture of Red Curry Paste and water for 1 min.
Add red bell pepper, sugar, fish sauce and basil, stir well for 1 min and remove from heat. Long Beans should only be lightly cooked.