Long Bean Fried Rice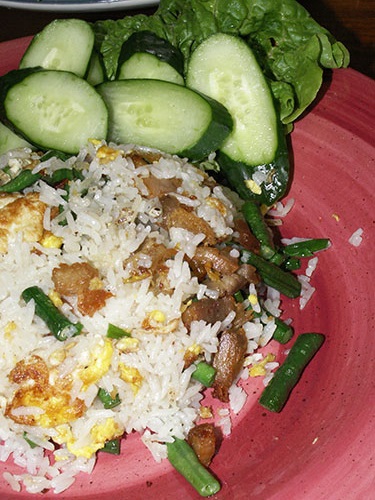 Long Bean Fried Rice

By: Mom
Ingredients for 2 servings

- 6 tablespoons vegetable oil
- 5 cups cooked leftover rice (refrigerate overnight)
- 1 cup of chopped roast pork (substitute with chopped spam or other meats)
- 3 cups Ho Farms Long Beans cut into 1 inch sections
- 2 eggs
- 1 teaspoon of salt
- Chopped green onions for garnish
Directions

Heat 3 tablespoons of oil in pan at high heat for 1 min.
Add chopped roast pork, stir fry for 1 min and remove.
Scramble eggs and remove.
Add remaining tablespoons of vegetable oil.
Stir fry Long Beans for 1 min.
Now add rice and mix well with the Long Beans.
Mix in the roast pork and scrambled eggs.
Mix in 1 teaspoon of salt, some pepper.
Remove fried rice from pan and garnish with green onions.
Serve with sliced Japanese cucumber.
.